Benson Lai
His film and game scoring credits include:
Games:
Iron Roads - Railroad Business Simulator (PC)
Black Sector - Half Life 2 Mod (PC)
Nothing Held Back - BattleField 2 Mod (PC)
Jedi Academy - Knights of The Old Republic Mod (PC)
Films:
In the Minds of Men(Full Length Feature Film) - Guilty by Associations Productions - Directed by Sean Shing
Easy Lay - Directed by Andrew Yoo(Short)
The Dream - Directed by Amy Grace Kennedy(Short)
Tiburon Films Inc. - Promotional Trailer
Prime Vantage - Silver Back Productions - Directed by Bobby Ryan(Short)
143 - Charles Smith Productions - Directed by Charles Smith(Short)
The Final Sneezer - Non Profit Organization The Story Project(Short)
Film Festivals:
4th Annual Calgary Super8 Challenge Sponsor
2009 Vancouver Short Film Festival Sponsor
2010 Vancouver Short Film Festival Sponsor
2010 New Media Film Festival Sponsor
2010 Portable Film Festival Sponsor
2010 LA Shorts Fest Sponsor
Organizations:
Battle of the Bands - Canadian Liver Foundation Sponsor(Edmonton)
Reel:
Personal Bio: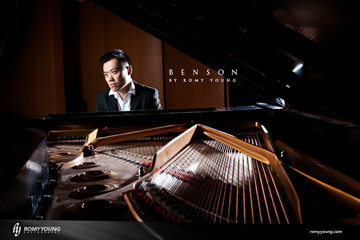 Benson Lai graduated from the University of Alberta where he obtained a Bachelor of Science (BSc) degree majoring in biological sciences and minoring in physical sciences. He then graduated from The University of Alberta's After Degree Nursing (BScN) program. He is currently a Registered Nurse (BScN, RN) with Alberta Health Services, and Covenant Health. He recently completed his post graduate designation, Occupational Health Nursing (OHN) through MacEwan University and graduated the summer of 2016.

A member of SOCAN (Society of Composers, Authors and Music Publishers of Canada) & is part of The Audio Coalition which is an audio production company. His orchestral fusion compositions combine a variety of styles with electronic, world, jazz, soul, blues, funk, and rock elements heard in a variety of media projects such as music libraries, film festival sponsorship, independent videogames and films.

Benson is a professional pianist that has been featured on Global News @ 6, Metro News Edmonton and advertised in one of Alberta's top wedding & lifestyle magazines, Blush Magazine. Venues he has played at include The Fairmont Hotel Macdonald, The Fairmont Chateau Lake Louise, The University of Alberta Faculty Club, The Edmonton Petroleum Club , Delta Edmonton South Hotel, Hilton's Hampton Inn & Suites Hotel, The Devonian Botanic Garden, the Edmonton Old Timers Cabin, Allegro Italian Kitchen, and CKUA Radio Network Downtown.

He has also been featured in music videos by Emotion with their track "Show Me The Way" ft. Kenadii G. Benson played the keyboard and wrote original music in his former psychedelic electronic rock band "Attic Daze." He is currently a member of the Alberta Piano Teachers Association and teaches children at one of the largest independent music schools in Canada, Custom Music Lessons. He also has a teaching position with Key Mobile Music that offers lessons to adults. In the past he was a piano/music teacher for The Heart of the City Piano program & MusicBox Children's Charity to provide music and piano lessons to less privileged children in the inner city; in addition, he was also part of the Heart of the City's Performance Troupe raising money for their program. For inquiries and bookings please contact him at (780)-695-7549.