Benson Lai
Is a young upcoming composer and sound designer for media. His works span feature films, film shorts, music libraries for film/tv placements, independant videogames, corporate and film festival sponsorships.

His film and game scoring credits include:
Games:
Upcoming X-box Live Title - No Rematch (X-box 360)
Iron Roads - Railroad Business Simulator (PC)
Black Sector - Half Life 2 Mod (PC)
Nothing Held Back - BattleField 2 Mod (PC)
Jedi Academy - Knights of The Old Republic Mod (PC)
Films:
Triwar Productions - (Unannounced Full Length Horror Feature Film)
In the Minds of Men(Full Length Feature Film) - Guilty by Associations Productions - Directed by Sean Shing
Tiburon Films Inc. - Promotional Trailer
Prime Vantage - Silver Back Productions - Directed by Bobby Ryan(Short)
143 - Charles Smith Productions - Directed by Charles Smith(Short)
The Final Sneezer - Non Profit Organization The Story Project(Short)
Film Festivals:
4th Annual Calgary Super8 Challenge Sponsor
2009 Vancouver Short Film Festival Sponsor
2010 Vancouver Short Film Festival Sponsor
2010 New Media Film Festival Sponsor
2010 Portable Film Festival Sponsor
2010 LA Shorts Fest Sponsor
Music Libraries For TV/Film:
Audio Micro, Music Supervisor, Free Play Music, Audio Socket, Jingle Punks, Music Dealers, Song Street Records
Organizations:
Battle of the Bands - Canadian Liver Foundation Sponsor(Edmonton)
Reel:
Personal Bio: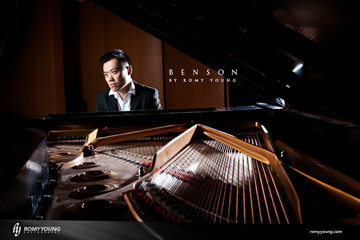 Benson Lai graduated from the University of Alberta where he obtained a Bachelor of Science (BSc) degree majoring in biological sciences and minoring in physical sciences. He just recently graduated from The University of Alberta's After Degree Nursing (BScN) program. He is currently a Registered Nurse (BScN, RN) with Alberta Health Services working for Cross Level Services & Supports in their housing and initiatives department.

Regarding his music education, he studied at Macewan University under Edmonton Opera singer Lindsey Sikora for voice, Berklee College of Music alumni Don Ehret for contemporary guitar, and jazz piano under the former chair of the Macewan jazz piano department, Charlie Austin; furthermore, he studied music technology and production under the late Juno award winning audio engineer, Colin Lay and Juno award nominated Nik Kozub.

A member of SOCAN (Society of Composers, Authors and Music Publishers of Canada) & represented by his agent Stacey Yoon (leading agent for composers in Los Angeles - Rush Hour 3, Call of Duty 4, The Bachelor) his orchestral fusion compositions combine a variety of styles with electronic, world, jazz, soul, blues, funk, and rock elements heard in a variety of media projects such as music libraries, film festivals, independent videogames and films.

His instrumental piano album "Secret To Your Heart" coming out December 2013 will have a handful of original piano compositions along with covers of David Foster, Diane Warren, Brian Mcknight, Alan Menkin, Snow Patrol, and Yiruma; in addition, his electronic album "Electronic Kaleidoscope" coming out August 2013 will showcase his electronic writing featuring dubstep, house, trance, hip hop and EDM elements. It will also feature a dozen electronic remixes and arrangements of Max Martin, Shellback, DJ Frank E, Timbaland, and Red One's productions sung by Britney Spears, Rhianna, Enrique Iglesias, Jay Z, Pink, Keisha, and Justin Timberlake.

Other musical endeavours include playing keyboard and writing original music with his psychedelic electronic rock band "Attic Daze". He also volunteers for The Heart of The City Piano program & MusicBox Children's Charity to provide music and piano lessons to less privileged children in the inner city. He also is a resident piano player at the Glenrose Rehabilitation Hospital; furthermore, he performs at a variety of weddings in the summer; finally, he teaches piano and music technology privately to students in his home studio. For inquiries and bookings please contact him at (780)-695-7549.